Nintendo Revolution
2004–2006 (pre-launch and E3)
SVG images of these logos are recommended but not required. You can help Logopedia by uploading them here.
Wii was originaly called Nintendo Revolution in his pre-launch and E3 in 2004. The O's represent then-called Wii discs and Gamecube discs. It uses the same style from the Gamecube and Game Boy Advance logos.
Wii
2006–present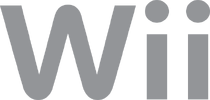 In 2006, during its official launch, Nintendo Revolution was renamed to Wii. The Wii was discontinued in Europe and Japan in 2013. The same wordmark is a part of the Wii U logo, however, it is no longer used as an alone wordmark in these two continents.
See also