2014–present
2014–2016
2016–present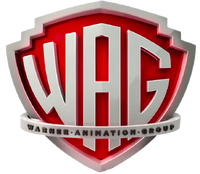 In 2016, the letters on the banner were changed from lowercase to uppercase. This was used in tandem with the previous logo for a time.
When AT&T bought Time Warner to change its name to Warner Media, the byline was changed.
Note
To date, none of Warner Animation Group's films have opening credits or even title cards, which only appear in the closing credits for unknown reasons, as most films released so far only have just the logo.
See also