Max is the name of a range of large crinkle cut crisps in the United Kingdom. It is produced by Walkers.
1999 - 2001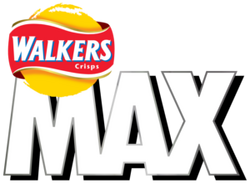 Walkers Max launched in 1999 and were originally advertised as low fat ridged crisps. The original flavours were Cheese & Onion, Paprika and Salt & Vinegar. Two further flavours were added in 2000 (Naked and Red Hot) both of which were withdrawn with the 2001 relaunch. Each flavour (except Naked) had its own mascot, in a similar manner to Monster Munch, each mascot representing an animal associated with the respective flavours.
Flavours during this period
Hard Cheese & Onion - Blue (Mouse), 1999-2001,
Naked - Purple, 2000-2001,
Punching Paprika - Orange (Chameleon), 1999-2001,
Red Hot - Red (Dragon), 2000-2001,
Screaming Salt & Vinegar - Green (Fish), 1999-2001.
In addition, in 2000, a Chilli Cheese Dip was introduced to be used with the Naked flavour crisps.
2001 - 2009
In 2001, Walkers relaunched its Max range, in the process repositioning it into the full fat crisps market. The Naked and Red Hot flavours were replaced with Chargrilled Steak and Chip Shop Curry. The packaging was modified in 2006 to include the new Walkers logo and the Daily Guidelines. At this time, the Salt and Vinegar and Chip Shop Curry flavours were withdrawn. The packaging was further modified in 2007 to include a newer version of the Walkers logo.
2009 - present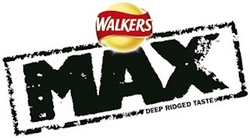 In 2009, Walkers Max was relaunched once again, this time reformulating the flavours so they are more healthy. A Cheeseburger flavour was added to the range but was later discontinued along with Chargrilled Steak. The packaging was revised in 2011 to feature the then modified Walkers logo. A new Flamin' Hot flavour was introduced in 2015. In 2016, the Cheeseburger flavour returned in revised packaging alongside new to the range Flame Grilled Steak (not to be confused with discontinued but similar flavour Chargrilled Steak) and Jerk Chicken. In 2017, Salt & Malt Vinegar (not to be confused with the similar flavour Salt & Vinegar) and BBQ Pulled Pork flavours were added to the range.