1972–1986
1986–2002
In 1986, Wachovia changed font.
2002–2011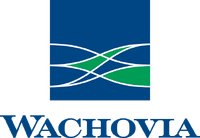 In 2001, First Union merged with Wachovia. They decided to take the Wachovia name.
The logo for the new company was unveiled on November 2002. It was created by Interbrand.[1] The new logo started appearing on bank signs in mid-November the same year.
Ad blocker interference detected!
Wikia is a free-to-use site that makes money from advertising. We have a modified experience for viewers using ad blockers

Wikia is not accessible if you've made further modifications. Remove the custom ad blocker rule(s) and the page will load as expected.