2012–2014
WWE Main Event marked WWE's return to American terrestrial television since WWE Smackdown! left for Syfy
2014–present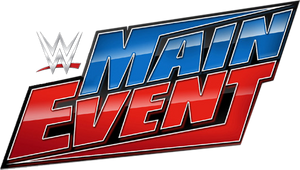 The layout changed slightly when the new overall WWE logo was introduced.
Ad blocker interference detected!
Wikia is a free-to-use site that makes money from advertising. We have a modified experience for viewers using ad blockers

Wikia is not accessible if you've made further modifications. Remove the custom ad blocker rule(s) and the page will load as expected.