199?–2016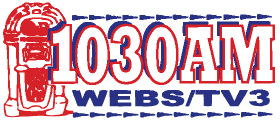 In the past, WEBS was a classic hits station (even though there were some gospel/religious programming on Sundays; that tradition continues on even after the format change). The station also has an FM feed that uses the frequency 103.5 starting in August 2016 (it had previously used 99.7 prior to that).
The logo, along with the music format, would also change one month after the frequency change, as explained in the next logo below.
2016–present
On September 6, 2016, WEBS became a 10-in-a-row country music station after dropping its previous classic hits/oldies format. To reflect this, the station switched to a logo involving a painting of the USA flag with the moniker "Kickin' 103.5 FM-1030 AM" (similar to what WIPK "Kickin 94.5" had used from January 18, 2012 until that station switched to "Streetz 94.5" on January 13, 2015).