Ad blocker interference detected!
Wikia is a free-to-use site that makes money from advertising. We have a modified experience for viewers using ad blockers

Wikia is not accessible if you've made further modifications. Remove the custom ad blocker rule(s) and the page will load as expected.
19?? – 2011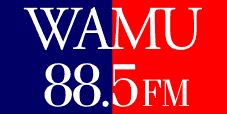 2011 – present
WAMU launched a new multi-colored along with a campaign on January 1, 2011. The rebrand is based on the slogan "The mind is our medium", which also appears in the logo. The colored shapes in the logo are stylized versions of the call letters. The rebrand was done with Arnold DC, the D.C. office of
Arnold Worldwide
.

FM Radio stations in Washington, D.C.