1996–2009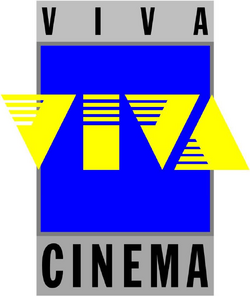 Viva Cinema was launched on May 6, 1996 as 24 hour all-Filipino Movie channel, the channel was joint venture between STAR TV and Viva Entertainment. the 1996 Viva Cinema logo was similar like different logos of STAR TV channels until 1998 (while the 1996 Viva Cinema logo is still being used until 2003), the "Viva" text on the top and the "Cinema" text on the below, and also the old Viva's 1981 logo on the Blue square background, On July 31, 2003, after the STAR TV-Viva joint venture was expired, Viva Cinema went Off the Air, while Viva Entertainment launches its own all-Filipino movie channel as Pinoy Box Office (PBO) on August 1, 2003.
Station ID
2009–2012
After 6 years hiatus, on February 1, 2009, Viva Cinema went back On the Air with a new logo, it was relaunched together with the launch of PLDT MediaQuest's Cignal Digital TV was tie-up of the launch of the said channel. It combine of previous teleseries via Viva Television, Filipino movies (including Hollywood movies) and Interviews for the upcoming movies both local and international movies. while another sister channel Pinoy Box Office (PBO) will remain for its operation as 24 hour all-Filipino Movie channel of Viva Entertainment, the 2009 Viva Cinema logo which similar like the 2005 logo of all Zee TV channels owned by India-based broadcaster Zee Entertainment Enterprises of the Essel Group until 2011, the Silver film for the "V" letter on the Blue square background and the Viva Cinema text on the below, on July 15, 2012, Viva Cinema was Signed-Off again for the last time to make way for the return of all Filipino Entertainment channel, Viva TV.
STAR India
---
---
---
---
Ad blocker interference detected!
Wikia is a free-to-use site that makes money from advertising. We have a modified experience for viewers using ad blockers

Wikia is not accessible if you've made further modifications. Remove the custom ad blocker rule(s) and the page will load as expected.