1973–1978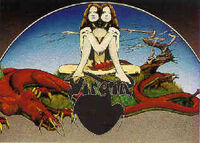 This logo (nicknamed "The Gemini"), designed by Science Fiction artist and designer Roger Dean and was used by the company in it's early print ads and early releases, such as Mike Oldfield's 'Tubular Bells'.
1978–present

The company has been defunct in the United Kingdom since 2013. The Virgin wordmark used here is still used today even after parent company
Virgin
changed its logo to have a more streamlined look in 2006.