2004–2007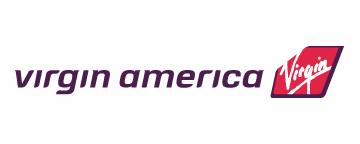 2007–2013

2013–2019

The logo's wordmark was updated to match the adjacent logos of its sister airlines Virgin Atlantic and Virgin Australia, although the font has not made its way onto planes yet.
After the 2017 merger with Alaska Airlines, the Virgin America brand fleet will be absolved into Alaska and it's brand will disappear.
Ad blocker interference detected!
Wikia is a free-to-use site that makes money from advertising. We have a modified experience for viewers using ad blockers

Wikia is not accessible if you've made further modifications. Remove the custom ad blocker rule(s) and the page will load as expected.