1967-2015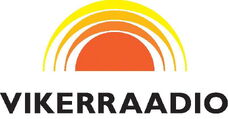 Vikerraadio was launched on 3 April 1967. Its first logo consisted of a sun in the middle of an orange circle which is cut half along with three curves which is coloured basic, lime-yellow, and orange.
This logo which was used by Vikerraadio, it had a long use for 48 years from 3 April 1967 to 26 May 2015.
2015-present

On 26 May 2015, the sunburst was confined to history and were replaced in favour by a new logo which was the two letters "v" and "r" which are emmerged together and are coloured gold and silver. This new logo was introduced on that day when Vikerraadio was relaunched with its new programmes and schedules.
Television
---
---
---