Contents

1995–1996
1996–1999
1999–2004
2004–2008
2008–2016
2016-present
TV6 Denmark
1995–1996
TV3+ Denmark
1996–1999
In April 1996, TV6 Denmark was relaunched as TV3+ Denmark by adopting a new logo of a pure-red square with a white 3-numeral along with a yellow circle with a red plus-sign in it.
1999–2004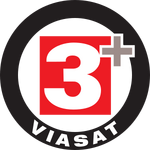 In 1999, to coincide with the launch of Viasat's new corporate logo, TV3+ Denmark changed its logo for the third time. This time, its third logo was a black ring that bears the "Viasat" wordmark along with a red square that bears the 3-numeral and a grey plus-sign.
2004–2008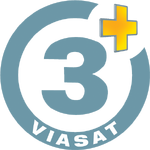 A new on-air identity for TV3+ Denmark was launched in early 2004. It was created by English & Pockett.
2008–2016
A new yellow logo was adopted on April 4, 2008.
2016-present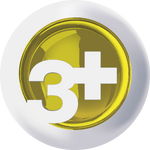 TV Channels: Viasat | TV3 (Slovenia, Hungary, Latvia, Lithuania, Estonia, Norway, Sweden, Denmark) (HD) | TV6 (Hungary, Latvia, Lithuania, Estonia, Norway, Sweden) (HD) | TV8 (Lithuania, Sweden) (HD) | TV10 | Viasat4 (HD) | TV3+ (Denmark, Latvia, Estonia) (HD) | TV3 Puls (Denmark) | TV3 Sport (Denmark) | TV3 Max (Denmark) | Nova television | Kino Nova | Nova Sport | Diema | Diema Family | Diema Sport (HD) | Viasat1 | TV Prima (HD, +1 HD) | Prima Cool (HD) | Prima Love | Prima Max | Prima Zoom | Prima Comedy Central
---
Film Channels: Viasat Film Premiere (HD) | Viasat Film Action (HD) | Viasat Film Hits (HD) | Viasat Series (HD) | Viasat Film Family (HD) | Viasat Film Comedy (HD) | TV1000 (East) | TV1000 Action (East) | TV1000 Russkoe Kino | TV1000 Premium | TV1000 Megahit | TV1000 Comedy
---
Sports Channels: Viasat Sport (HD) | Viasat Fotboll (Sweden) (HD) | Viasat Motor (HD) | Viasat Golf (HD) | Viasat Hockey (HD) | Viasat Fotball (Norway) (HD) | Viasat Sport Baltic | TV2 Sport Premium (Norway) (HD)
---
Documentary Channels: Viasat Nature (HD) | Viasat Series (HD) | Viasat History (HD) | Viasat Explore (HD) Poland: Polsat Viasat Nature | Polsat Viasat History | Polsat Viasat Explore
---
Channel Blocks: Viasat Epic
---
Radio: Rix FM | Lugna favoriter | Bandit Rock | NRJ | Star FM (Sweden) | P4 | P5 | P6 | P7 | NRJ | P8 | P9 | P10 | P4 Bandit | Tour of Norway | Radio Country | P5 Nonstop Hits | Power Hit Radio | Star FM | Radio Nova
---
---
Defunct: TV1000 +1 (Plus One) | ZTV (Norway, Sweden, Denmark) | TV3+ (Norway) | Viasat Plus | | Viasat Premier League HD | Viasat SportN | Viasat 3D | TV 2 Sport (HD) | Viasat Film Nordic (HD) | Viasat Film Drama (HD) | Viasat Film Classic | Viasat Crime (HD)