Ad blocker interference detected!
Wikia is a free-to-use site that makes money from advertising. We have a modified experience for viewers using ad blockers

Wikia is not accessible if you've made further modifications. Remove the custom ad blocker rule(s) and the page will load as expected.
1971–1976
For most variants, the background starts out as black and switches to purple, then 'v' enters. It switches to green as 'ia' enters. Then it switches to red as 'com' enters. Finally, as it zooms out to "A Viacom Presentation" the background turns blue.
1976–1987
There are unconfirmed variants of a pink background V of Doom and one that contains flashing colours.
In this variant, either the "V" together with "Viacom" zooms in towards the viewer, or they slide in from opposite sides of the screen.
1981-1982
1982–1987
1986
1986–1991
This is nicknamed the "V of Steel". It has varieties, but not as many as the previous logo including a warp speed variant.
1990–2000
1990–1998
1998–2000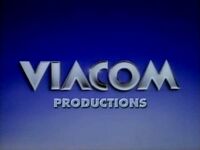 1999–2004
Video