2005-2011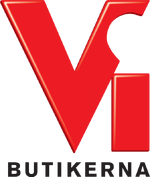 Vi stores were originally included in the retail chain Vivo. When the chain was purchased by axfood broke merchants in Vivo Stockholm out and formed their own group, which in 2005 went from Axfood wholesale company Dagab to Bergendahls. In December 2008, however, decided Vi stores that from November 2009 to return to Dagab.
In August 2011, began the settlement of Vi stores, which continues for the rest of 2011, and the stores went over to Hemköp or became independent. The first store, in Huddinge converted in April 2011 and store in Skondal became Hemköp in August the same year. The last shop that ceased to be Vi store was T-earl at Östermalmstorgs Metro Station, which became detached.
Ad blocker interference detected!
Wikia is a free-to-use site that makes money from advertising. We have a modified experience for viewers using ad blockers

Wikia is not accessible if you've made further modifications. Remove the custom ad blocker rule(s) and the page will load as expected.