1990-2015
1990-2000
In 1990, ВИD was founded (VID in english) by Vladislav Listyev. He thought that the best variant of a logo would be a head of Guo Xiang, which was found at the Museum of Eastern Art in Moscow. However the museum would not allow Listyev to use the actual head, leading him to fashion a "mask" of Xiang's head using computer graphics.
1995-2000
2000-2015
In 2000, the logo was changed and yet still using that same mask. Listyev wanted the company to use but with Aleksandr Lyubimov using the head.
2013-present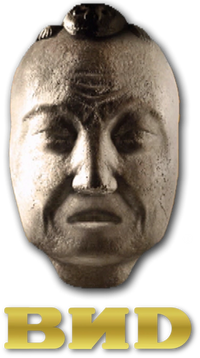 In March 2013, VID slightly changed it's logo. The mask also received a new shiny look to it. This logo is used in tandem with the old one.