IHL & AHL team
1994-1998
This article or section lacks a former logo at the moment. You can help Logopedia by uploading it here.
The Utah Grizzlies started in 1994 as the Denver Grizzlies, in the International Hockey League. In 1995 the club moved to the Delta Center in Salt Lake City. In 1997 the team moved again, this time to the E Center in West Valley City.
1998-2005
In 2001 the IHL disbanded. The Grizzlies then moved to the American Hockey League. After the 2005 season the team was relocated to Cleveland as the Lake Erie Monsters.
ECHL team
2005-present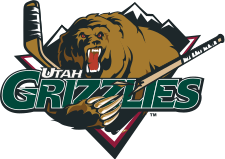 In 2005 a new ownership group purchased the Utah Grizzlies name and resurrected them in the ECHL, rebranding the inactive Lexington Men O' War franchise in the process.
Ad blocker interference detected!
Wikia is a free-to-use site that makes money from advertising. We have a modified experience for viewers using ad blockers

Wikia is not accessible if you've made further modifications. Remove the custom ad blocker rule(s) and the page will load as expected.