Ad blocker interference detected!
Wikia is a free-to-use site that makes money from advertising. We have a modified experience for viewers using ad blockers

Wikia is not accessible if you've made further modifications. Remove the custom ad blocker rule(s) and the page will load as expected.
1792–2010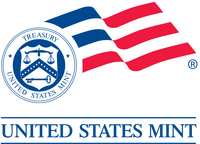 2010 –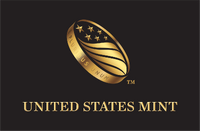 On August 17, 2010, a new identity for the United States Mint was revealed. It was created by Siegel + Gale. The logo shows a coin in midair.
"The coin symbol, flipping in the air, embodies an optimistic spirit that is symbolic of core American values and the everyday commerce of our country. The logo's craft and detail embody the artistic excellence the organization strives for in everything it produces, while the stars and stripes stand for the United States Mint's connection to the nation. Lastly, the stars represent the six United States Mint facilities, as well as America's six circulating coins." - Siegel+Gale
1792-present