Contents

1975–1989
1989–2003
2003–2008
2007–present
Double Jay Rock '1540'
1975–1989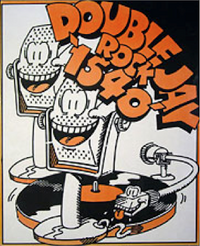 Launched on 19 January 1975 (prior to colour TV that came to Australia) as Double Jay Rock '1540'.
Triple J
1989–2003
2003–2008
In 2003, the drum was modified with the non-outlined oval, including the only changes to drumsticks. In 2005, Triple J celebrated its 30th anniversary.
triple j
2007–present
Throughout the stylizing into a new name called triple j but with no explanation whatsoever, the new logo was created on 2 November 2007 then it premiered in January 2008.