This page only shows print and stationary logos.
For other related logos and images, see Trans7/Other
TV7
2001–2006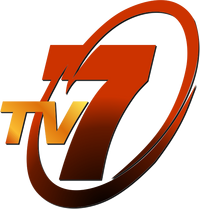 Trans7 was launched in 2001 as TV7 which is owned by Kompas Gramedia.
Trans7
2006–2013

In June 2006, TV7 was acquired by Trans Corp which also owned Trans TV. On December 15, 2006, TV7 was renamed to Trans7.
2013–present

On December 15, 2013, Trans7 updated its logo by changing the "TRANS" wordmark to the current form of Trans Media logo and removing the gradient and line to simply rectangle with darker-blue coloured.
External links
Countries:


Australia, United States of America (USA), & United Kingdom (UK) : Hi-5 Australia (1999-2011, 2017-present), Hi-5 House (2013-2016) | Vitenam : Chào Bé Yêu (2012-2013) | Argentina : Hi-5 Fiesta (2014-2015) | Philippines : Hi-5 Philippines (June 15, 2015 - April 29, 2016) | Indonesia : Hi-5 Indonesia (2017-present)
---
Television:
Australia : Nine Network (1999-2017), Nick Jr. (2013-2014), Eleven1 (2016-2017), Go! Kids (2017-present) | Southern Asia : Disney Junior (2013-present) | Singapore : Okto (2008-2011) | United States of America (USA) : TLC (2003-2007), | United Kingdom (UK) : Cartoonito, CITV (2008) | Vietnam : HTV7 (2012-2013), VTC71 (2015-2017) | Argentina : Telefe (2014-2015) | Mexico : Discovery Kids (2014-2015) | Philippines : TV5 (2015-2016) | Indonesia : RTV1 (formerly B-Channel) (2009-2011, 2017-2018), NET. (2014-2015), Trans7 (2017-present)
---
Production Company:
Australia : Nine Films & Television (1999-present) Kids Like Us (1999-2008), Southern Star (2009-2011, 2017-present) | United Kingdom (UK) : Darrall Macqueen Ltd (2008) | Singapore : Oak3 Films1 (2013) | Philippines : Studio5 (2015-2016) | Indonesia : Falcon Pictures (2017-present)
---
Studios:
Australia : ABC Studios (1999-2000) | Singapore : Infinite Studios (2013) | Malaysia : KRU Studios (2014-2015)
---
1 : Hi-5 House the spin-off series