TV7
2001–2006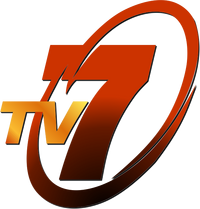 Trans7 was launched in 2001 as TV7 which is owned by Kompas Gramedia.
Trans7
2006–2013

In June 2006, TV7 was acquired by Trans Corp which also owned Trans TV. In December 15, 2006, TV7 was renamed to Trans7.
2013–present

In December 15, 2013, Trans7 updated its logo by changing the "TRANS" wordmark to the current form of Trans Media logo and removing the gradient and line to simply rectangle with darker-blue coloured.
External links
Ad blocker interference detected!
Wikia is a free-to-use site that makes money from advertising. We have a modified experience for viewers using ad blockers

Wikia is not accessible if you've made further modifications. Remove the custom ad blocker rule(s) and the page will load as expected.