27th July 2004–2007
Tiny Pop took over Pop + on 27th July 2004, airing baby and toddler content for babies and toddlers under 4.
2007–2011
The logo was 3d in 2007, shiny and brighter, the capital t became a lowercase t.
2011–Present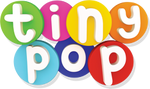 The logo was made into a 3d logo that was more 3d than ever before and the "y" circle became orange, after being purple for 7 years.
Ad blocker interference detected!
Wikia is a free-to-use site that makes money from advertising. We have a modified experience for viewers using ad blockers

Wikia is not accessible if you've made further modifications. Remove the custom ad blocker rule(s) and the page will load as expected.