2000–2012
2012–2016
Tiji launched a new look in 2012 and the blue cloud was jazzed up and the giant dot of the j was a circular orange lollipop changed to a orange circle with a white outline.
2016–present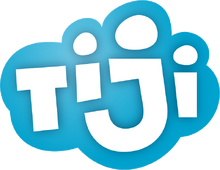 Tiji was rebranded in 2016 to match the new look of Canal J. The era that has used now is the Fat Bunnies Era. They removed the "Dun du du du dun du TIJI!" and they put the"Dun dan dadan dadadan WEEE! dan dan" theme.
Ad blocker interference detected!
Wikia is a free-to-use site that makes money from advertising. We have a modified experience for viewers using ad blockers

Wikia is not accessible if you've made further modifications. Remove the custom ad blocker rule(s) and the page will load as expected.