For the New Zealand TV channel, see Three (New Zealand).
Prelaunch
Seen in Three's 10th anniversary document from 2013.
2003–2007
Hutchison 3G (trading as 3) launched in 2003. This style of logo was used until the mid 2000s.
2007–2009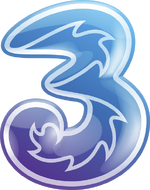 By 2007 the logo was updated to include 'outlines'.
2009–present
In the late 2000s it became common for the logo to be in plain black and white. The dimensions were slightly altered.
Other logos
External links
Ad blocker interference detected!
Wikia is a free-to-use site that makes money from advertising. We have a modified experience for viewers using ad blockers

Wikia is not accessible if you've made further modifications. Remove the custom ad blocker rule(s) and the page will load as expected.