The Quincy, Omaha and Kansas City Railroad, more commonly known as "The OK Railroad", started out in 1897 as the Omaha, Kansas City and Eastern Railroad; it was mainly a steam-powered operation; passenger service was provided by Doodlebugs. The line ran across northern Missouri from Quincy, IL, via Kirksville and Trenton, MO. At Pattonsburg, MO the line split; it headed toward Kansas City to the southwest, and to Omaha, NE via the Wabash to the northwest.
The QO&KC had a close relationship with Chicago, Burlington & Quincy railroad throughout its existance, and was eventually wholly absorbed by that railroad.  The closeness  can be seen in the design of the second (later) logo pictured below.
The line west of Kirksville, MO was abandoned and removed in the mid to late 1930's.
1897-1???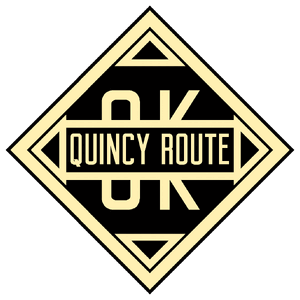 ????-19??