????–1997
Llansantffraid FC was founded in 1959.
1997-2006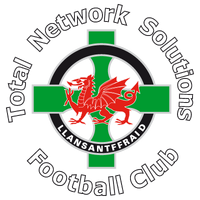 In 1997 the club's official name changed from Llansantffraid Football Club to Total Network Solutions Football Club. The club received a new crest.
2006-present
In 2006 the sponsorship deal with Total Network Solutions lapsed. The decision was made to change the official name of the club to The New Saints Football Club.