????–1997
Llansantffraid FC was founded in 1959.
1997-2006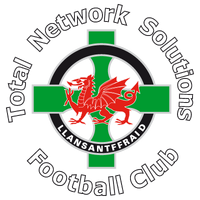 In 1997 the club's official name changed from Llansantffraid Football Club to Total Network Solutions Football Club. The club received a new crest.
2006-present
In 2006 the sponsorship deal with Total Network Solutions lapsed. The decision was made to change the official name of the club to The New Saints Football Club.
Ad blocker interference detected!
Wikia is a free-to-use site that makes money from advertising. We have a modified experience for viewers using ad blockers

Wikia is not accessible if you've made further modifications. Remove the custom ad blocker rule(s) and the page will load as expected.