Not to be confused with The Learning Channel.
1986-2008
This has been the most well-known logo, which appeared on various games starting from Reader Rabbit, all the way up until 2007, when the logo received its first and currently only dramatic redesign of its logo.
A SVG version of this logo is recommended but not required. You can help Logopedia by uploading it here.

00:07

The Learning Company Logo (1986-2001)
Mid 1990's-2008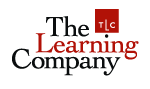 This was only used to represent The Learning Company's intuectual property division, TLC Properties (not to be confused with TLC, which has no relation to this whatsoever as it refers to "The Learning Channel", which is part of Discovery Communications).
2009-2017
Ad blocker interference detected!
Wikia is a free-to-use site that makes money from advertising. We have a modified experience for viewers using ad blockers

Wikia is not accessible if you've made further modifications. Remove the custom ad blocker rule(s) and the page will load as expected.