Pronto (X21 & X46)
2011-2016

It was announced on February 15th 2016 that the X21 & X46 would be rebranded as "The Castles Express". The X21 service links Newcastle, Chester-le-Street, Durham and Bishop Auckland, all of which have prominent historic castles.
The Castles Express (X21 & X46)
2016-present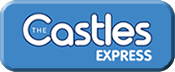 Ad blocker interference detected!
Wikia is a free-to-use site that makes money from advertising. We have a modified experience for viewers using ad blockers

Wikia is not accessible if you've made further modifications. Remove the custom ad blocker rule(s) and the page will load as expected.