Tesco Express began in 1994 as a brand for shops part of petrol stations, the first standalone Tesco Express opened in 2002.
1994–1995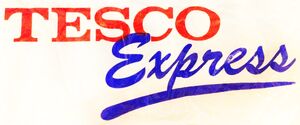 1995–2002

Introduced on December 13, 1995 as part of the Tesco rebrand that day.
2002–2008
Used when the first standalone Express store opened.
2008–present
Ad blocker interference detected!
Wikia is a free-to-use site that makes money from advertising. We have a modified experience for viewers using ad blockers

Wikia is not accessible if you've made further modifications. Remove the custom ad blocker rule(s) and the page will load as expected.