Telecom Australia
1975-1986
1986-1993

1993-1995

Telstra Corporation
1995-2006

In 1995 Telecom Australia changes its name to Telstra.
1999-2006
2006-2011
This logo is still seen on older pay phones & exchange buildings.
2011-present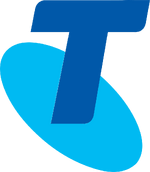 In September 2011, Telstra unveiled its new brand positioning which sees it its blue and orange logo move to multiple colours, along with a promise from the brand to speak to consumers in everyday language. The logo does not ditch all aspects of the original Telstra logo first registered by the company more than 18 years ago, based on a stylised antenna dish.
September 2011-January 2014
Telstra Refreshes its Logo and Positioning
January 2014-2016
2016-Present
Ad blocker interference detected!
Wikia is a free-to-use site that makes money from advertising. We have a modified experience for viewers using ad blockers

Wikia is not accessible if you've made further modifications. Remove the custom ad blocker rule(s) and the page will load as expected.