2005-2011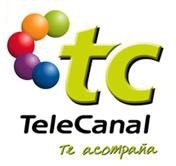 Its first logo was a series of spheres of blue, purple, red, orange and lemon green that formed a curve. Also, next to the letters tc were lowercase and light green. Below these, was the legend TeleCanal, also in italics, in another typography and of black color.
In 2007, the spheres are changed by circles, but one of them changes the orange by the lemon-green color (the same color as the letters). The letters tc remain lowercase, but occupy another typeface. The telecanal legend is the same color as the letters above with Trebuchet MS typography.
2011-present
Ad blocker interference detected!
Wikia is a free-to-use site that makes money from advertising. We have a modified experience for viewers using ad blockers

Wikia is not accessible if you've made further modifications. Remove the custom ad blocker rule(s) and the page will load as expected.