Not to be confused with Télétoon+.
Not to be confused with Teletoon.
Minimax
1999-2004
Zig Zap
2004-2008
In October 16. 2004 Minimax is renamed ZigZap
2008-2011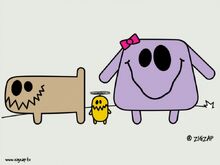 This logo was introduced on February 14, 2008.[1]
TeleToon+
2011-2014
In October 1. 2011 ZigZap is renamed TeleToon+. On November 11, 2011 TeleToon+ got a new logo, which is used during shows along with the logo above. Also, channel started it's simulcast in HD.
2014-present
Ad blocker interference detected!
Wikia is a free-to-use site that makes money from advertising. We have a modified experience for viewers using ad blockers

Wikia is not accessible if you've made further modifications. Remove the custom ad blocker rule(s) and the page will load as expected.