1992-2008
The TV 2 logo was created by Scandinavian Design Group.
2008-2013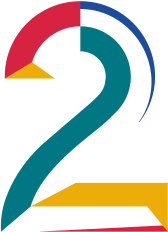 As the original logo was complicated with its many colours and gradients, TV 2 introduced an alternative logo.
Eventually, this logo replaced the former logo on screen and is now used for all TV 2-branded channels. In 2010, its HD channel is launched.
2013-present
Divisions
---
---
---