This article is being considered for protection.

You can discuss it at Talk:TVI. This page should be protected for the following reason: Recent vandalism and uploaded fake logos by Mort the Mouse Lemur.
Contents

1993–1994
1994–1995
1995–1996
1996–2000
2000–2014
2014–2017
2017–present
A Quatro
1993–1994
TVI was launched as A Quatro (despite TVI being its corporate name) in 20th February 1993, as a joint-venture between the Portuguese Catolic Church and various national and international media companies, including Rádio Renascença, Editorial Verbo, Antena 3, Compagnie Luxembourgeoise de Radiodiffusion, Sonae, Yorkshire Television and SBS Broadcasting Group.
TVI
1994–1995

A Quatro was relaunched as TVI in 1994.
1995–1996
TVI's logo was changed in 1995.
1996–2000
In 1996, TVI changed its logo. This time with the silver ball with the colorized "i" on it.
2000–2014
In September 2000, TVI gave a major change to its logo. This time the yellow "i" is with the red and blue curves that are around the i, and with the words "tvi" on the right side.
2014–2017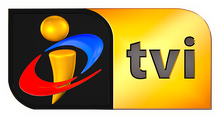 On February 20, 2014, in its 21st birthday, TVI renewed its image as well all the channel idents, but keeping the format of the previous logo. Dispite the new logo, TVI still uses the old logo at times.
2017–present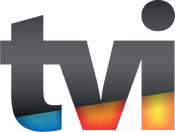 Other
For other related logos and images see: TVI/Other