This article is about a television network in philippines. For the ITV franchise, see ABC Television
Contents



ABC 5
1962-1965
1965-1972
1992-1994
When it returned to the airwaves, the network used a more known ABC 5 logo with a cyclone icon, incorporating the colors red, blue and green colors which makes up a pixel shown on the television was used in 1992.
1994-2000
The number 5 was removed to the logo in 1993 but retaining its ABC and the cyclone icon.
2000-2001
2001-2004
In 2001, the logo added its slogan Come home to ABC.
2004-2006
In 2004,the same logo used in 2003 with its new slogan Iba Tayo.
2006-2008
The last logo as ABC in 2004 has been enclosed with a yellow circle.
2006
August 8, 2008
This was the sign-off screen, signaling viewers that ABC would sign-off for the last time. It rebranded the next day.
TV5
2008-2010
In August 9, 2008, ABC 5 relaunched as TV5. The logo changed after its re-launch in 2008 having the new name of the network TV5 inside a shaking television.
2010-2013
In April 4, 2010, TV5 reformatted as the Kapatid Network. The network used a red circle being shined in the northwest corner carrying the name TV5 with the letters TV in the northeastern part above the largely sized number 5.
2013-present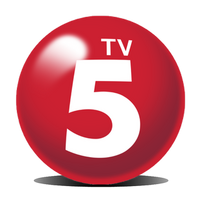 The logo adopted a 3D version in 2013 and applying it on-air, although the 2010 2D version oftentimes appear.
Other
TV stations in Metro/Mega Manila, Philippines
View • Talk • Edit