2006-present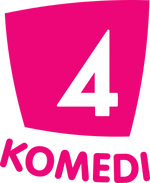 TV4 Komedi was launched on November 3, 2006. The original logo was created by Ohlsonsmith who also created the original idents and graphics. The idents featured a big version of the logo shot at various locations. The logo itself is an irregular square with curved sides with "Komedi" written in the font VAG Rounded.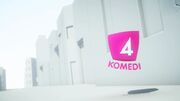 TV4 Komedi's first rebrand took place on February 26, 2010. The original logo remained, but is now presented in a 3D environment. In each of the idents, the logo gets crushed in some way, for example by a penguin falling onto it. The new idents were created by Kaktus Film.
Ad blocker interference detected!
Wikia is a free-to-use site that makes money from advertising. We have a modified experience for viewers using ad blockers

Wikia is not accessible if you've made further modifications. Remove the custom ad blocker rule(s) and the page will load as expected.