2004 – 2008
TV4 Film was launched on April 18, 2004.[1]
The launch identity for TV4 Film was created by Kemistry.
2008 –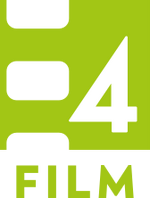 Eventually, updates logos for TV4 Fakta and TV4 Film came about, making them more consistent with the other channels in the TV4 family. The new logos did however not launch on screen immediately.
The old version of the logo disappeared completely in November 2010 when a new look was launched for TV4 Film.
References
Ad blocker interference detected!
Wikia is a free-to-use site that makes money from advertising. We have a modified experience for viewers using ad blockers

Wikia is not accessible if you've made further modifications. Remove the custom ad blocker rule(s) and the page will load as expected.