TV24 had a predecessor of sorts: Tele 24 was launched in 1998 and went off air only three years later in 2001 due to financial problems. Tele 24 was the national service of local station TeleZüri from Zurich. That station later changed hands and the new owners relaunched TV24 as a national service in 2014.
2014-present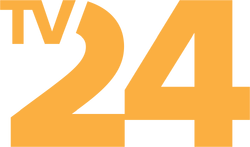 Logo of the HD-Version:
Ad blocker interference detected!
Wikia is a free-to-use site that makes money from advertising. We have a modified experience for viewers using ad blockers

Wikia is not accessible if you've made further modifications. Remove the custom ad blocker rule(s) and the page will load as expected.