2013–2015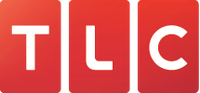 The TLC brand was revived in 2013, replacing Discovery Real Time. Promoting as a new channel launch, TLC's second era has completely different demographic to the original.
2015–present
In 2015 the UK TLC logo was updated. However, TLC continued using the 2006 logo scheme.
Ad blocker interference detected!
Wikia is a free-to-use site that makes money from advertising. We have a modified experience for viewers using ad blockers

Wikia is not accessible if you've made further modifications. Remove the custom ad blocker rule(s) and the page will load as expected.