This article is a candidate for move.

This article should be moved to TBS for the following reason: US and Latin American versions merged. As of now, disambiguation page not needed. Remember to check what links here and the page history before moving. If you disagree with move, please explain why on the candidates for move talk page.
Contents

1976–1979
1979–1981
1981–1985
1985–1987
1987–1989
1989–1991
1991–1994
 
1994–1996
1996–2003
2003–2004
2004
2004–2015
2015–present
WTCG
1976–1979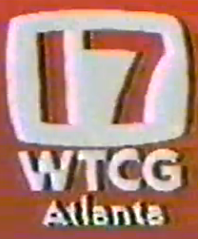 Superstation WTBS
1979–1981
The "SUPER STATION" portion of this logo is similar in design to the Star Wars logo.
1981–1985
1985–1987
Superstation TBS
1987–1989

TBS Superstation (first era)
1989–1991
TBS (first era)
1991–1994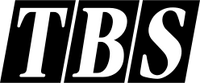 1994–1996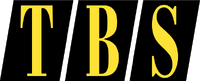 TBS Superstation (second era)
1996–2003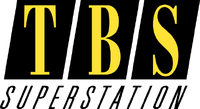 In 1996 on the 20th anniversary, TBS once again began referring to itself as "TBS Superstation", after five years as simply TBS; however, most network promos aired on the channel during this period verbally referred as simply "the Superstation" and network bugs during programs displayed the logo as simply "Superstation".
2003–2004

TBS (second era)
2004
In 2004, TBS Superstation once again rebranded as simply "TBS"; as such this logo was modified to only include a "TBS" wordmark in Myriad Bold Italic type; this logo was used only for a short time before its next logo debuted. It was taken from its 2003 logo.
2004–2015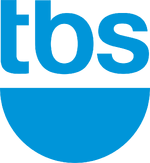 Beginning June 4, 2004, TBS debuted its new logo and look. This new look emphasized TBS' new focus on comedy, following TBS' parent company Time Warner's sale of its half of Comedy Central to Viacom. This logo is still used on Adult Swim's daily sign-off sequence, which airs at 5:59 a.m. ET each morning. During this time, a Latin American version was launched on October 1, 2011.
2015–present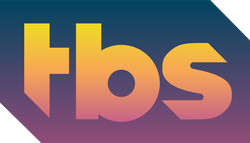 On September 16, 2015, TBS's official Facebook page unveiled a new logo on their profile pic, and on their cover photo while promoting their upcoming original series, Full Frontal with Samantha Bee. The logo was first used on the air on October 31, 2015, though it had appeared on TBS's website before then.
See also
For other related logos and images see: TBS (United States)/Other
WPCH-TV – an independent station in Atlanta, that operated TBS as a national superstation feed of the Atlanta-area station until 2007.