Olympics
1992–1996 (bidding)
1996–2000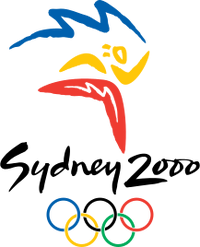 The official logo for the Sydney 2000 Olympics was revealed to the public on 14 September 1996 after the handover the Olympic flag from Atlanta 1996 closing ceremony. The unveiling was delayed because of failing designs the emblem for the games in early 1995. At the center of the logo is the "Millenium Athlete", made up of three boomerangs. It is supposedly carrying a torch which gives a smoke trail which is similar to the silhouette of the Sydney Opera House.
Paralympics
1996–2000
Ad blocker interference detected!
Wikia is a free-to-use site that makes money from advertising. We have a modified experience for viewers using ad blockers

Wikia is not accessible if you've made further modifications. Remove the custom ad blocker rule(s) and the page will load as expected.