19?? – 1999

1999 – 2005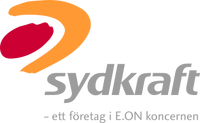 Sydkraft introduced a completely new visual identity in 1999.
"Our commitment to customers will be borne by the Group's visual identity. In 1999, it was a natural step to underline this change in direction by introducing a new visual identity that clearly illustrates the change.
There is a specific reason for the new corporate emblem appearing as it does. Our aim, in terms of choice of colors and typography, is to emphasize that Sydkraft is a more flexible and less technically driven company than previously.
We have retained the original red color, since this is so firmly associated with Sydkraft. Used in combination with the orange ripple device, we achieve the desired effect, which is that Sydkraft radiates energy. The simple brush strokes used add an element of spontaneity." - Sydkraft annual report
German energy company E.ON became majority owner in 2001.
In 2005, Sydkraft took the name of its parent company E.ON.
Ad blocker interference detected!
Wikia is a free-to-use site that makes money from advertising. We have a modified experience for viewers using ad blockers

Wikia is not accessible if you've made further modifications. Remove the custom ad blocker rule(s) and the page will load as expected.