Strike it Lucky
​1986-1994
Michael Barrymore's Strike it Rich
1996-1999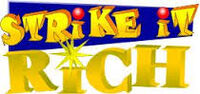 Production of the series transferred to London Weekend Television in 1996 from Thames Television. The latter refused to allow the former the title rights, thus the name changed to Strike it Rich, this was also the name of the original US programme upon which Strike it Lucky was based.
Ad blocker interference detected!
Wikia is a free-to-use site that makes money from advertising. We have a modified experience for viewers using ad blockers

Wikia is not accessible if you've made further modifications. Remove the custom ad blocker rule(s) and the page will load as expected.