Contents

1953–2006
2006–2012
2012–present
1953–2012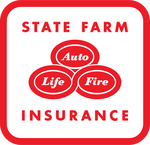 This logo can still be seen (e.g. as a safety reflective decal issued to policy holders).
2006–2012
2012–present

On December 15, 2011, State Farm designed a new logo that began usage on January 1, 2012. It was created by Chermayeff & Geismar. This retains the three-oval element but removes mentions of specific insurance lines, as the company has evolved to offer many types of insurance and financial products.
Ad blocker interference detected!
Wikia is a free-to-use site that makes money from advertising. We have a modified experience for viewers using ad blockers

Wikia is not accessible if you've made further modifications. Remove the custom ad blocker rule(s) and the page will load as expected.