Fizz
2005-2009
Fizz launched on 24 January 2005 on Sky channel 468, moved to 361 in 2006, and then 371 in 2008, and continued until 2009.
Starz TV
2009-2014

In 2009, Fizz was renamed Starz TV. At the same time, it's sister channel at the time, Channel U, was renamed Channel AKA.
2014-present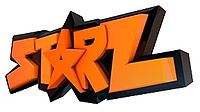 The logo is now 3D and tilted, the word "Starz" was still kept, but the star was moved to the middle of the Starz logo, replacing the "A".
Ad blocker interference detected!
Wikia is a free-to-use site that makes money from advertising. We have a modified experience for viewers using ad blockers

Wikia is not accessible if you've made further modifications. Remove the custom ad blocker rule(s) and the page will load as expected.