1993-2005
A SVG version of this logo is recommended but not required. You can help Logopedia by uploading it here.
2005-2008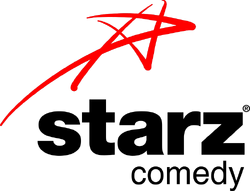 In March 2005, Starz updated their logos Starz in Black, Starz Kids & Family, Starz HD, Starz Entertainment, Starz Media, Starz Edge, and Starz Comedy.
2008–2016

In April 2008, Starz Comedy introduced a new logo and graphical scheme, as part a revamp of the Starz channels.
2016–present

Ad blocker interference detected!
Wikia is a free-to-use site that makes money from advertising. We have a modified experience for viewers using ad blockers

Wikia is not accessible if you've made further modifications. Remove the custom ad blocker rule(s) and the page will load as expected.