Star Vijay is a leading Tamil-language channel in India.
200?-2017
200?-200?

2001-2017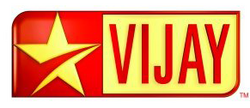 2017-present
A better version of this logo is needed, due to the picture quality, inaccuracies or other issues with the uploaded logo. You can help Logopedia by uploading it here.
On 25 June 2017 Star Vijay changed its logo for the first time in 16 years.