Star Pravah
2008-2014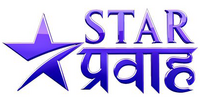 2014-2016
2016-present
In October 2016 the logo of the Marathi-language Star Pravah was modified slightly by enlarging the wordmark. However, the logo of the Bangla channel Star Jalsha remains the same.
Star Pravah HD
May-October 2016
October 2016-present
The logo was modified; the word 'HD' is no longer the same as what is found in the Star Plus HD (2010-2016) and Star Jalsha HD (2016-present) logos, and the words 'Star Pravah' have been enlarged.