19??-1992
1992–2011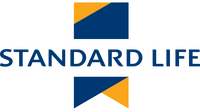 2011–present

Standard Life unveiled a new visual identity on Febraury 7, 2011. The new logo was designed by JKR. The blue and yellow colours from the old logo were kept, but the logo was redesigned.
"We have refreshed our visual identity to provide a clear outward signal of our brand repositioning and the forward thinking approach we are taking to people's long term savings needs. We want everyone who deals with Standard Life to look forward to the future with confidence and optimism." - Standard Life Chief Executive David Nish in a press release.
Ad blocker interference detected!
Wikia is a free-to-use site that makes money from advertising. We have a modified experience for viewers using ad blockers

Wikia is not accessible if you've made further modifications. Remove the custom ad blocker rule(s) and the page will load as expected.