PBS Kids Sprout
2005–2013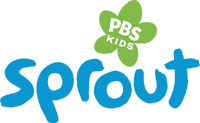 PBS Kids Sprout was launched on September 26, 2005 by Sesame Workshop, PBS, Comcast, and HIT Entertainment as a preschooler oriented network. Designed by Primal Screen. On January 28, 2011, Comcast purchased the media conglomerate NBCUniversal, merging most of its media operations with it, including PBS Kids Sprout. Later, in October 2011, Apax Partners announced a sale of HIT Entertainment to Mattel (it ended up in Fisher-Price's control); the acquisition was completed on February 1, 2012, and did not include HIT's share in the network. Although promotions for the network would often use the next logo in 2009, this logo continued to be a D.O.G. for the network until 2013 when NBCUniversal bought PBS, Sesame Workshop, and Apax Partners' shares in the network.
Sprout
2013–2015
This logo was intended to be merely be an alternate version of the main logo without the PBS Kids logotype in the green flower. However, on November 13, 2013, after NBCUniversal bought out PBS, Sesame Workshop, and Apax Partners' shares in PBS Kids Sprout, the "PBS Kids" trademark was removed from the blossom and the channel was rebranded as "Sprout".
2015–present
Other
External links
Networks
---
---
---
Ad blocker interference detected!
Wikia is a free-to-use site that makes money from advertising. We have a modified experience for viewers using ad blockers

Wikia is not accessible if you've made further modifications. Remove the custom ad blocker rule(s) and the page will load as expected.