1932–1968

Spar started out as DE SPAR, which was an acronym for Door Eendrachtig Samenwerken Profiteren Allen Regelmatig. "De Spar" also happens to mean "the fir tree", hence the logo was a fir tree.
1968–present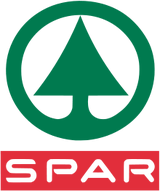 The current logo of Spar was created by design legend Raymond Loewy. It used a stylized version of the fir tree motif that had been with the company since the start. [1]
Supermarkets in the United Kingdom
Primary:
Ad blocker interference detected!
Wikia is a free-to-use site that makes money from advertising. We have a modified experience for viewers using ad blockers

Wikia is not accessible if you've made further modifications. Remove the custom ad blocker rule(s) and the page will load as expected.