For the stations in Spencer Gulf SA/Broken Hill NSW, see Seven GTS/BKN.
For the stations in Central Australia, see Seven Central.
For the station in Darwin NT, see Seven Darwin.
For the station in Tasmania, see Seven Tasmania.
Southern Cross Television
2005–present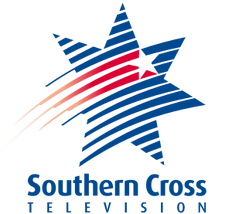 On 30 August 2005, a new logo was produced and used across the network, this time to a blue and red star. They used this as a branding logo for the stations until 30 June 2018.
This logo can still appear for their news bulletins in South Australia.
SCA Seven
2018–present
Southern Cross Television was rebranded to SCA Seven on 1 July 2018 and it now uses regular Seven branding.
Free-to-Air TV in Australia
Main
---
---
---